When done right, internal operations can make a business work like a well-oiled machine. When not, systems can become inefficient and counterproductive.
To manage and share information, companies can either use internal tools custom-built for their business, or standardized tools that can only streamline processes to a limited extent.
Custom tools developed through a traditional hard-coded approach can often do a good job addressing the needs of information flow in a business.
However, they can be laborious and expensive to build and maintain, and don't answer some key issues:
the shortage of expert engineering support
fast, constant market changes requiring regular software upgrades
Need for decentralisation
When a non-technical team needs a new workflow management application, they normally ask a manager or developers for a solution.
But heavy workloads and higher priority tasks often make it that these requests are delayed or not implemented at all.
Your team then has two options: either continue using the legacy systems, or improvise something using third party software (giving birth to 'shadow IT').
This limitation can be a setback for companies, reducing agility, siloing data, and raising privacy concerns.
Building internal tools without writing code
No-code and low-code allows non-technical people to build the custom apps they need themselves, without having to wait on developers.
They can visually design, test and run software through a drag-and-drop builder using pre-built components, and create business logic by defining relationships among elements, in a secure digital sandbox.
Take the example of a customer operations professional that needs a central dashboard to better understand her customers. Similarly to assembling Lego blocks, she can put together an integration through actions and relationships between several platforms to aggregate data, without having to hard code each step of the process from scratch.
If the app needs troubleshooting, altering, or upgrading, the process is easier too. Instead of spending time searching through server logs and making changes in the code, she can visually make the modifications on the canvas. For more complex fixes, she can ask for developer support, while both her and the developers keep working collaboratively in the same environment.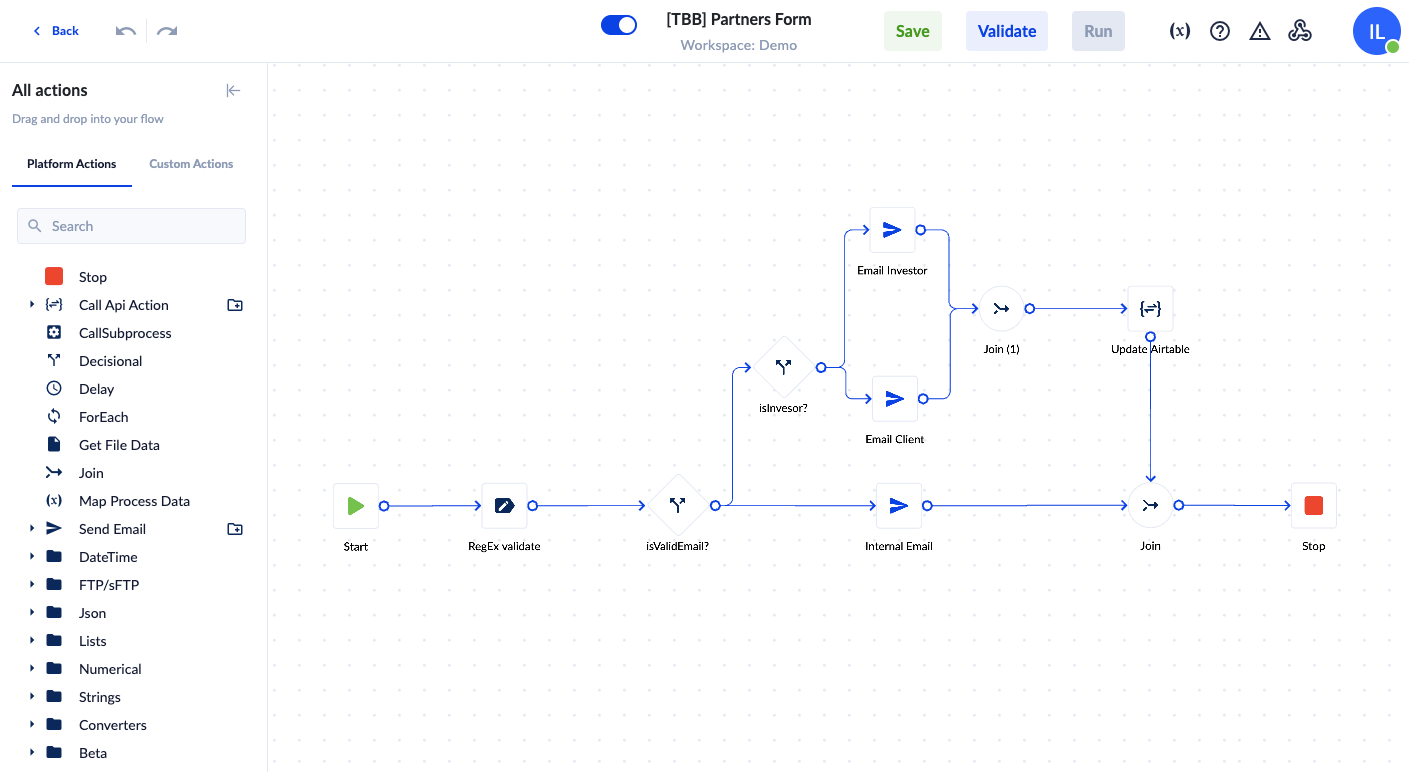 The ability to customise apps and workflows according to each individual's needs is a powerful feature that can decentralise app development in an organisation, removing burdens on engineering teams.
At the same time, non-technical users accustomed to the friendly look and feel of commercial apps can find it valuable to work on an enterprise tool that offers an intuitive, easy-to-use UI.
Governance for alignment and security
With the decentralisation of software development in a company, managers and IT heads need to ensure governance and security over the new apps and integrations.
In principle, the same security measures used on a hard-coded application can be applied on software developed via a no/low-code platform.
System managers can set different permission levels for users and allow access to mission critical data only for certain persons.
Having an integration policy in place will also help to avoid risks when connecting to potentially harmful external systems.
---
No-code low-code iPaaS like PROCESIO can help companies keep up with fast-changing market demands by enabling collaboration between non-technical experts and IT, in a secure and scalable environment.
Would you like to learn more about how you can empower business experts to visually build custom integrations and automation? Open a free account or book a demo with us and start building today!