Incompatible or outdated software are applications that are still in use for core or non-core services in a company or organization, but fail to meet new technology or business demands arising from market changes.
It often happens that these applications are monolithic, lack flexibility, and become very costly to maintain. At the same time, they can pose security risks, especially if working with sensitive data.
When it comes to migrating an outdated system, organizations either choose to
a) update or replace an underlying infrastructure or technology and replace an old system with a new one that has the same functions, or
b) undertake a business transformation process by replacing an old system with a new, different one that better supports current and future business processes and provides an enhanced user experience.
Migrating core legacy applications such as custom ERPs or portals is a more complex job than migrating smaller, non-core legacy apps. The process of migrating data and the activities involved in decommissioning an old complex system can prove very time and resource intensive, even more so if it does not have an API or standards-based interface.
Advantages of employing a no/low-code platform for software migration
No/low-code solutions offer a visual approach to software development, breaking traditional business and IT silos, by taking much of the heavy load and automating the steps in the application lifecycle.
Pre-built Lego-like components providing different functions allow for one-time implementation and testing which you can then re-use in multiple instances, helping to digitalize and automate processes.
This is valid for in-house or outsourced projects, but also for hybrid models where a company might want their internal team to collaborate with a specialized low-code provider to have a better combination of roles for a project.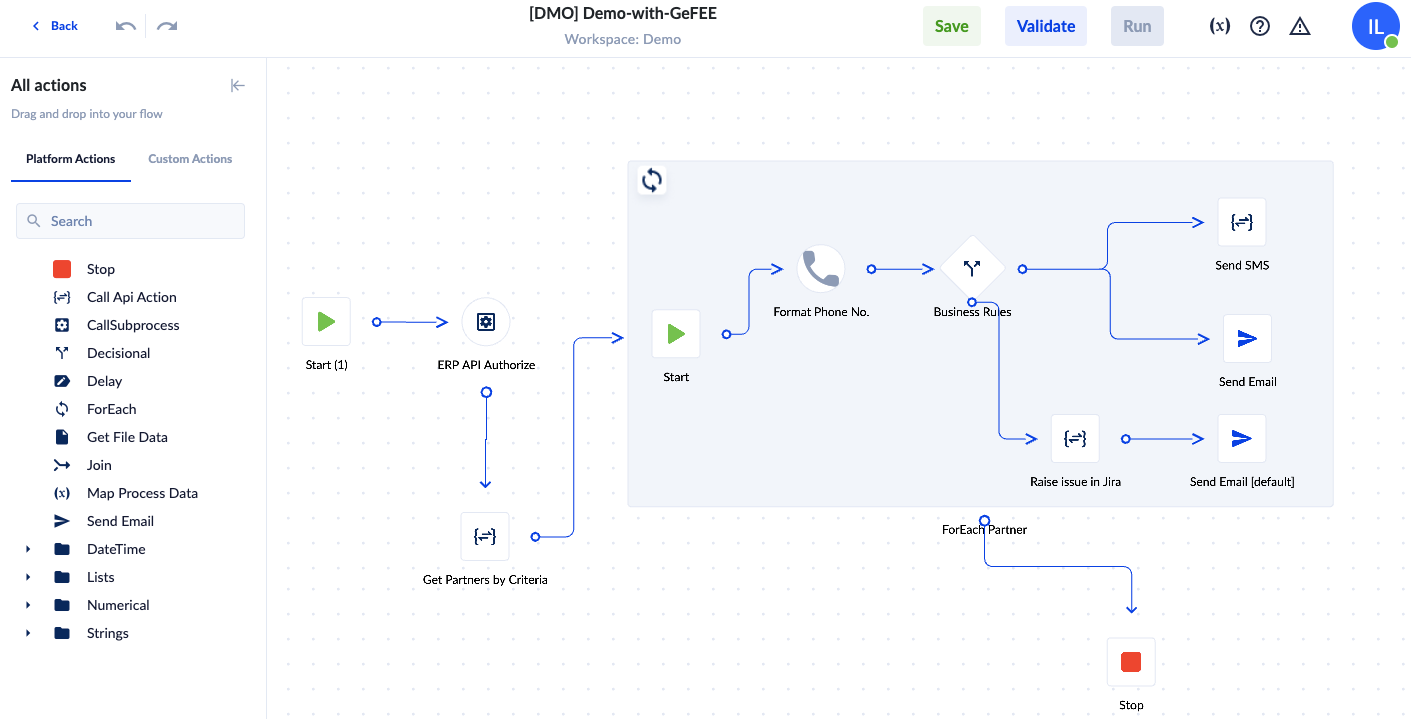 Automating a migration process through a no/low-code platform can prove very useful for a number of reasons:
Keep legacy investments: when a company asks for a systems upgrade, it often wants to keep the value of the previous software capital investment. A no/low-code platform can help preserve and transfer that value to the new applications.
Reduce errors: less human intervention by automating the validation steps help to reduce or eliminate errors.
Develop architectures that enable more agility: no/low-code platforms that offer legacy migration to new systems allow to build apps and services that support modifications and maintenance fast, in line with changing business needs.
Reduce operational costs: because you don't have to manually deal with all the steps involved in a migration process and to build applications by coding from scratch, the resulting cost of the new apps is lower.
Ensure automatic failover: by using the cloud-native architecture of a low-code platform, you can count to have a system that works at all times.
Skills flexibility: developers can quickly benefit from the most modern technology stacks even if they are not experts in all of them.
Prevent technical debt: build quality applications that allow for long-term maintainability.
Automated testing: employing standard modules means you can be proactive in quality and real-time performance monitoring.
Migrating to new software systems can often look like a daunting task, spanning entire IT departments, and covering multiple aspects. No/low-code platforms can help make this task easier by providing a streamlined, viable alternative to traditional software modernization.
While no/low-code is more intuitive from UX point of view, it is also not strictly reserved for developers. People with a technical mindset and even business analysts can visually develop prototypes, data models, logic, and workflows, in a much shorter time than it would typically take to learn a traditional programming language.
---
No/low-code iPaaS such as PROCESIO can help companies and organizations keep up with fast-changing market demands by migrating to new software in a secure and scalable environment.
Would you like to learn more about how you can empower your technical and business experts to build custom integration workflows 5x faster than by writing code? Send us a quick mail with your case and we will be glad to get in touch with you.