To offer reliable services that are in line with regulations and answer changing customer demands, energy and utilities providers need efficient workflows that streamline data management and communication both internally and externally.
A recent Capgemini report on Intelligent Automation on Energy and Utilities found that 'automation frontrunners in this field have aggressive technology adoption', with '32% of automation frontrunners considering time taken to complete the process as the top criteria while selecting a process for automation'.
The main challenges that energy and utilities providers are facing today are:
Aligning with strict regulations that may have impactful financial implications, requiring careful strategic and operational compliance
Changing expectations from customers, who look for innovation, consistency, and a proactive approach in service
Legacy systems that are becoming incompatible with new technologies
Need for innovation for climate change and sustainability
Pressure from market changes and a highly competitive business environment
Higher returns by automating core processes
Many of the core processes at these companies can get a boost in efficiency from data or systems integration and automation, helping to save hundreds of hours of manual, repetitive work, prevent errors, and tackle the challenges above.
Some examples include consumption management, client account management (onboarding, billing, settlements, transfers etc), tasking and communication with third party providers, logistics, legal affairs, or HR.
The role of no-code and low-code can be transformational as this approach allows to build workflow logic and automation fast, by both non-technical users as well as more technical teams or developers.
No/low-code works by assembling and configuring software components visually instead of writing code from scratch, and so it breaks through the challenge of relying on engineering or on using third-party apps to build software.
In this context, the users that need new systems integrations or automation can build solutions themselves, more accurately addressing their own pain points and shortening the development time.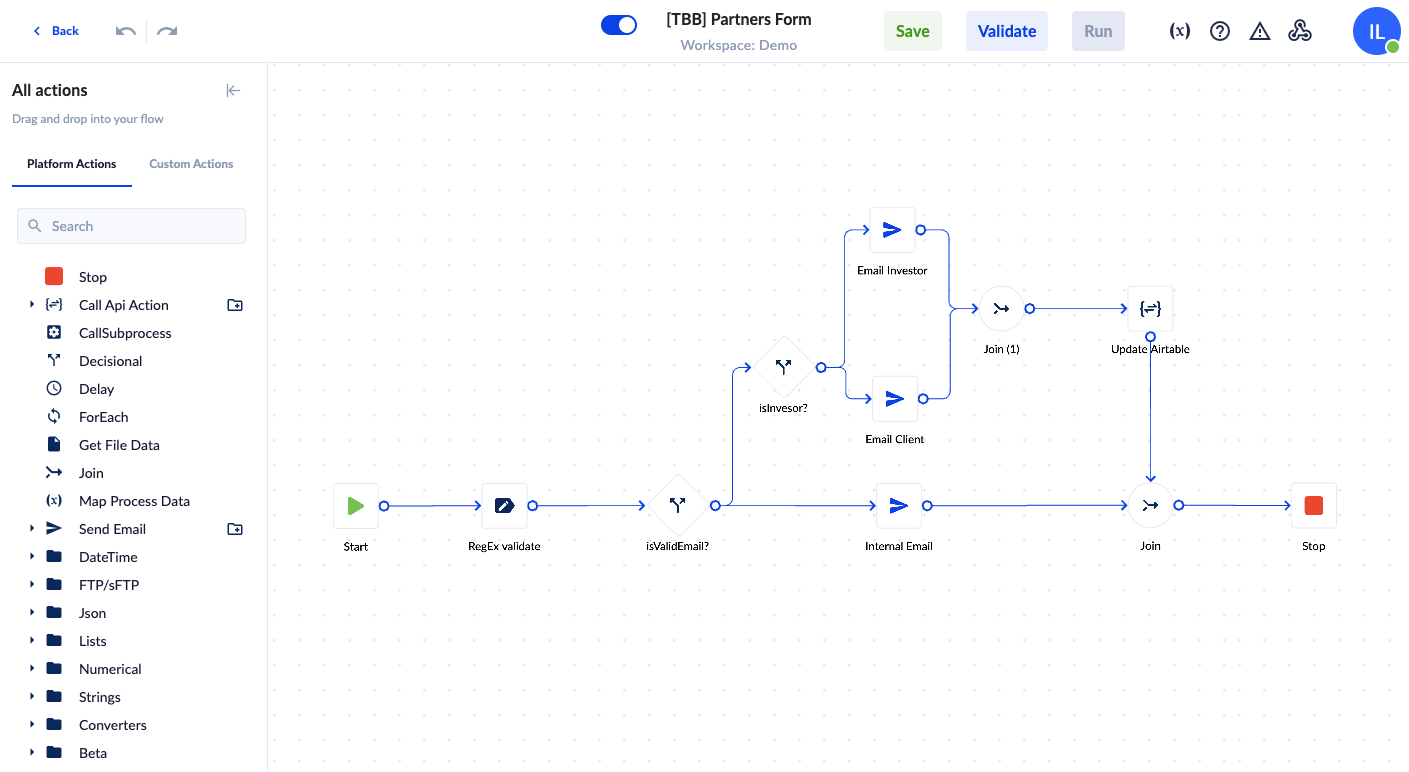 Here are a few examples of use cases in different scenarios that help to make processes more efficient for energy and utility providers:
Automating customer onboarding
The use case of automating customer onboarding is a good example how providers can ensure a smooth and effortless first-time experience for new customers by automating (parts of) this process.
Once a new client arrives via your website, a form, or by placing a new order, automatically set up a new account and enrich the profile with internal or external data.
As a next step you can sync the new customer profile information with your ERP, CRM, or billing platform, and send a confirmation via the customer's preferred communications channel.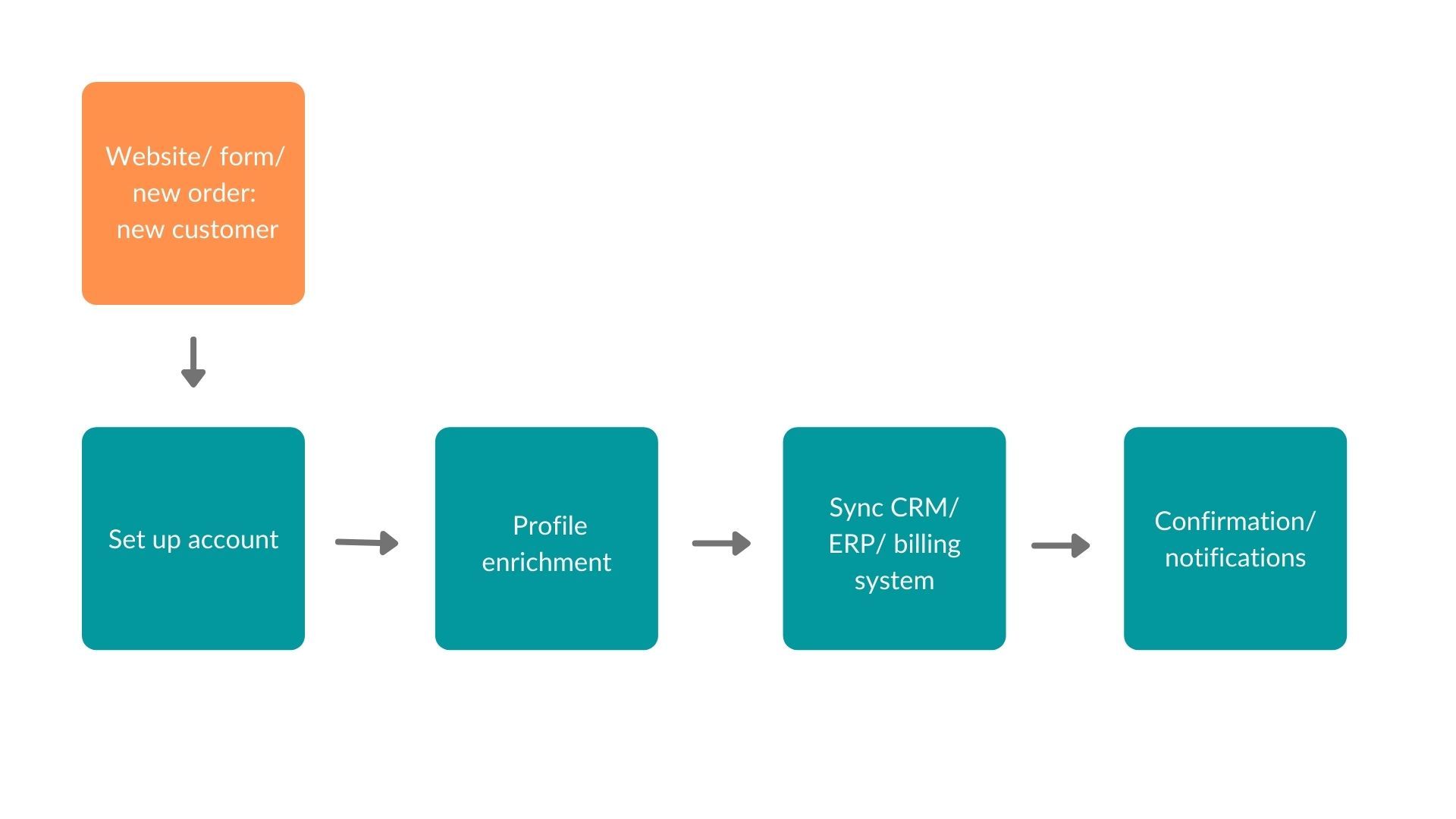 Read more about this use case here.
Reducing customer churn rate
Another use case that is a top priority for every company is reducing customer churn rate. Thankfully, you can automate the process of identifying customers with churn risk and the steps to re-engage them based on the data you already hold.
Once you determine the churn risk criteria specific to your case, you can set up proactive actions such as a drip email campaign, SMSs, or trigger messages with specific offers or discounts via retargeting on the web or social media.
You could also use an AI tool to determine when to take actions by analysing the behaviour of current customers against historically churned clients.
Find out more details about the steps in this use case this link.
Automatic invoicing using meter reader data
Providers can also automatically use data from meter readers to update clients' accounts and send invoices with consumption information and due dates for payments.
This workflow centres around the data from meter readers and client communication, and may additionally route this data for specific reports or dashboards, or as input for other workflows such as upselling or cross-selling products or services based on clients' historical information.
Here's a more detailed view about the steps that could be part of this workflow.
Changing providers
This use case involves customer data and notifications is transferring to a different provider.
In this scenario, the trigger is a transfer request from a customer via your website, app, custom form, or by phone, which is then followed by a series of steps which may include:
updating the client's account
checking past records for any unfinished tasks or outstanding balance
notifying relevant internal teams or stakeholders
transferring account data to the new provider
Generating documents and messages from templates
No-code can also be useful when working with large volumes of documents. For this scenario, companies can generate documents or messages based on predefined templates.
Utility providers can set up workflows that automatically aggregate data from one or more sources and render documents such as invoices, offers, policies, term-sheets, or contracts.
The sources could be for instance CRMs, apps and websites, or XML streams, and as output the documents could be in PDF, Word, print, or HTML5 formats.

Read more about this use case here.
Enable teams to be more creative and productive
These are just a few examples that less or non-technical users could prototype and implement to streamline workflows.
As energy and utilities companies are often large entities, empowering non-technical users to build the integrations and automation they need is a major step forward in removing pressure on IT departments, while still allowing admins to define a framework through a secure digital sandbox and keep control of the new apps that users build.
To sum up, the advantages of automation in utilities include:
Speeding up work, saving resources and money
Removing silos between different departments
Reducing bottlenecks and errors from manual work
Allowing teams to focus on more creative tasks
Improving customer service response times (general support, outages, etc)
Compliance
---
No-code low-code iPaaS like PROCESIO can help energy and utility providers keep up with fast-changing market demands by enabling collaboration between non-technical users and IT, in a secure and scalable environment.
Would you like to learn more how you can empower your business and technical teams to build custom software and workflows up to 10x faster than by writing code? Open a free account or contact us with us and start building today!